Sonic 4th Anniversary party
The party was successfully held at PCCW Recreational Club on 16 December 2007. We have almost 70 members and friends showed up! Our head coach Kenneth Yip did an amazing job to host the party and bring up the atmosphere. The long lucky draw seemed like an never-ending game! Hope everyone enjoy the party and have a wonderful evening. Check out our photo album for the happening!
Ivan Yeung was crowned as "The most outstanding Sonician award" in 2007 season. He is a very promising triathelete in Sonic and he is the only one in Sonic finished the entire Duathlon, Aquathon and Triathlon race series locally while some were podium finished. He brought valuable club point to the club. His performance is unbeatable and deserve a credit. "The hints is very simple, just strict with the club's training." a 28 years-old said and he is now preparing for his first 70.3 Ironman China in April.
Sonic is now 4 years old, let's keep it moving!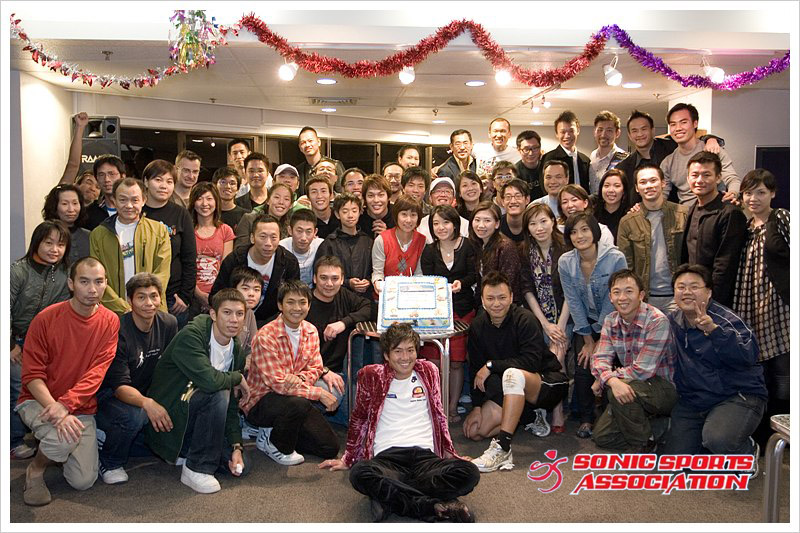 TriA Vice President in Sonic
First of all the big congratulation to our member Philip Penaloza was elected and is now in the position of Vice President of Hong Kong Triathlon Associations. His objective is very clear and determinant, the triathlon scene in Hong Kong will definitely go into the new page in 2008. Here is his message to thank you.
"Hi Sonic Members:
Thanks very much for all your super "SONIC" support! Now to roll up the sleeves and work hard for you in
the HKTriA for more and better races. Let's keep our fingers crossed that HK ITU at Disneyland in November 2008 goes as planned and even better. thanks again and Happy Holidays to All.
Philip"
HKTriA award ceremony and club standing
Right after the HKTriA AGM, some of us also attended the HKTriA award ceremony.
We first of all need to send appreciations to all members who did race any single race among TriA race series even though they are getting more like a standard exercises. Any position you've got in the race means some valuable point to Sonic to maintain the overall club standing among all active triathlon club in Hong Kong.
We especially congratulate to the following members for their promising performance in aquathon series.
Natalie Wu (Female 20's champion)
Ivan Yeung (Male 25-29 champion)
Bill Yuen Kai Lai (Male 25-29 1st runners-up)
Wong Kam Tim (50-54 2nd runners-up)
Edwin Wong (Male 35-39 5th)
For the year of 2007, Sonic's position in overall club standing remains at 4th, position in triathlon series climbed up to 2nd! But look at the down side, Sonic was dropped from 7th in 2006 to now 10th in Aquathon series; Duathlon series we also dropped from 2nd in 2006 to now 3rd; Check out TriA result archive for the complete listing.
http://www.triathlon.com.hk/racing/e_races_result.html
Training Camp
The Zhuhai off-season winter training camp is confirmed on 25-27 January 2008. The schedule is about to depart Hong Kong in the evening and will back to Hong Kong in Sunday afternoon. It will be a good chance to train outside Hong Kong as a group and pickup the endurance and fitness. We are busy working out the costs and logistic, detail information will release shortly.
Membership renewal
All HKTriA and Sonic membership form for 2008 are ready for you to download and fill-in, we will help you to renew and update your personal information to HKTriA office. We are giving out a free club tee to register member. Please also tell your friend and family if they are interested in! Check out membership on the website, left menu, We want you!
New Club kit

We are refreshing our club kit like bike jersey, cycling short, running singlet and windbreaker, some will come with a new design and better fabric, suggestion welcome and more news to come!
Tokyo Marathon
Some of us are going to attempt the Tokyo Marathon in February, our member Madoka is organizing for a group of Sonic marathon runners and supporting team, please contact Madoka at
madomado@mail.com
if you'd like to jump in!
China Ironman
Some of us also going, planning, or also enrolled the first ever China Ironman in either 70.3 or full version.
Just in case if you still don't know, check out
http://www.ironmanchina.com/
, 70.3 means half-ironman distance in miles while 226 is the full-ironman distance in miles. The China Ironman will happen at Hainan Island in 20 April.
Please contact Kent Wong at
pkkentwong@gmail.com
, he is going to organize group travel package from Hong Kong.
Sonic baby
In the morning of Sonic 4th Anniversary party, our member Ada Au gave birth to a healthy baby girl named Sophie Cheng, congratulate to the new arrival of their family member, the first Sonic baby!